For many people, making the decision to see a psychologist can be a big step. The uncertainty about what is involved in the process and what is expected of them during the initial session can be daunting. For children especially, having some information to help understand the process can be helpful.
Asking your psychologist to provide some photos of themselves and the waiting can be useful to prepare children for the first appointment. For many people, the elusive 'clinic room' can be daunting, and it is important that both the waiting room and clinic room feel welcoming for both children and adults alike.
Here are some photos of the waiting room and clinic room at Step by Step Psychology. Many people have commented on the light, bright space and welcoming feel our clinic has.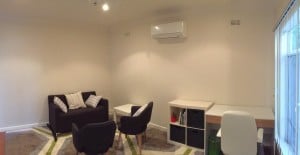 A psychology appointment is meant to be a time and place for the person attending to feel safe, comfortable and share their thoughts without judgement. A pleasant space can go a long way to ensuring this is what occurs. Despite the amount of information you gather prior to attending, the initial appointment can be daunting for a many people.
The initial appointment is usually a time for the psychologist to gather information, as well as for the client to share their story and concerns. Openly talking about your concerns to a stranger can be daunting at first, and some people find it easier than others. Your psychologist should be able to recognise this, and ask questions to help get you started.
For children and young people, the initial session may involve a combination of time spent with the child individually, as well as with the parents, depending on the child's age and the family's preference. For families where a lot of background and developmental history is required, it can be beneficial for the parent to attend the first session without the child, allowing more time to gather the information required.
When working with children and young people, the first session is often reserved for 'rapport building' to allow them to develop a positive relationship with the psychologist. Occasionally, this can take longer than one session, but it is an important part of the process and should not be rushed. If you think your child will be hesitant, it can be helpful to share a few of their interests with the psychologist prior to the session, so the psychologist can have an understanding of how best to engage with the child.
In my experience, older children and adolescents generally prefer to have their parents remain in the waiting room which, provided the parent is comfortable with, can work well. This makes it easier for them to open up and feel comfortable, allowing a relationship to be built with the psychologist. Any limits to confidentiality and the level of feedback provided to parents are decided based upon on the preferences and needs of the family.
Should any questions or concerns arise prior to your initial appointment or feel that you or your child would benefit from additional information, never hesitate to contact your psychologist's clinic to find out more information. Doing so will allow you to feel more comfortable when you attend the initial appointment as you will have a greater understanding of what to expect.